A READER ON THE STATE OF THE POLITICAL DECAY AND IDEOLOGICAL GRIDLOCK BETWEEN ONE GROUP WHO SEEK TO DESTROY THE COUNTRY, AND THOSE WHO WANT TO RESTORE IT.
Tuesday, January 31, 2012
From Conservative Byte.com:
The Obama Administration's Hypocrisy on Manufacturing Jobs
Hypocrisy: The practice of claiming to have moral standards or beliefs to which one's own behavior does not conform
In President Obama's State of the Union address, he spent a great deal of time talking about the need for what he calls, 'insourcing' jobs, particularly the "opportunity to bring manufacturing back." And he received strong applause from both political parties for this comment.
The president argued, "It's not fair when foreign manufacturers have a leg up on ours only because they're heavily subsidized." And more applause ensued.
President Obama then went on to tell Congress they "should make sure that no foreign company has an advantage over American manufacturing."
What President Obama did not mention is that his administration recently disqualified an American manufacturer from competing against a heavily-subsidized and government-controlled foreign competitor, giving no explanation and costing hundreds of American jobs.
Hawker Beechcraft – an American aircraft manufacturing company – was abruptly barred from receiving a Department of Defense contract. The only company left to compete for the contract was Brazilian-owned Embraer – a government-subsidized foreign entity currently under investigation by the SEC for corruption and bribery.
In Defense Department terms, the contract is relatively modest at $1 billion, but for our economy and our national defense, losing this contract has steep repercussions. The contract would have provided hundreds of American manufacturing jobs in places like California, Connecticut, Kansas and Arkansas. It would have afforded 500 new engineering and 300 aircraft manufacturing jobs in Wichita, Kansas, where Hawker Beechcraft is headquartered.
In addition, by awarding the contract to Embraer, we are placing a critical Air Force program in the hands of a country that has been at odds with our military objectives numerous times over past decade.
Embraer will build these aircraft in its country of origin, Brazil, using their Brazilian workforce. Though Embraer touts itself as a private company, the reality is quite different. Embraer is subject to the control of the Brazilian government under a "Golden Share" provision in its governing documents, which gives Brazil the right to stop or meddle in production at any time for any reason.
Embraer will then fly the aircraft shell to a rented hanger in Florida, allowing 50 American workers to complete the final assembly. And there you have it—paint it red, white and blue and call it American made.
Given the President's own words during the State of the Union, it is baffling to understand how this administration could trust America's national security to Brazil instead of relying on a proven American company.
Unfortunately, the Obama administration still refuses to provide any explanation for their decision to exclude Hawker Beechcraft from this contract competition. What is blatantly clear, however, is that the administration made the wrong decision by choosing a foreign company rather than creating and sustaining jobs in America. This is particularly clear given the company will be tasked with building aircraft that are expected to protect our national security interests.
The Obama administration's decision to discard an American company for a foreign company means our tax dollars will fund job efforts overseas instead of creating jobs at home. The applause-winning claims versus the actions of this administration do not align. The Obama administration should be focused on rebuilding America's economy, not Brazil's. American workers and their families deserve more from the White House.
Please contact your Member of Congress and tell them to let Americans build the planes charged with protecting our national security and learn more about the issue at www.saveusdefensejobs.org.
Stephen DeMaura is President of Americans for Job Security a non-profit, non-partisan pro-business issue advocacy organization which promotes issues that strengthen the American economy.
Posted by

cwarrenrobertson
at 8:53 PM
No comments:


Monday, January 30, 2012
From The Blaze:
The Blood Money Video
In the end, the Republican primary is about electing the man
who will beat
Barack Obama

. Before you decide who you want going toe-to-toe with
Think you know Mitt? Think again.
Posted by

cwarrenrobertson
at 9:02 PM
No comments:


From Human Events:
Massive layoffs at another Obama stimulus company
The President's investment hot streak continues.
01/30/2012
Hard on the heels of $118 million "stimulus" recipient Ener1
declaring bankruptcy
comes news that another highly-touted "green energy success story" just laid off two-thirds of its workforce. From the
Las Vegas Sun:
Just seven months after California-based solar power company Amonix Inc. opened its largest manufacturing plant, in North Las Vegas, the company's contractor has laid off nearly two-thirds of its workforce.
Flextronics Industrial, the Singapore solar panel manufacturer that partnered with Amonix to staff the new $18 million, 214,000-square-foot plant, laid off about 200 of its 300-plus employees Tuesday.
This one's pretty small on the usual scale of Obama "investment" failure, as taxpayers were only forced to give $5.9 million to Amonix by the Obama stimulus plan. Still, it's a real blow to Obama's attempt to create American jobs by giving money to foreign "green energy "concerns. Obama bragged about his brilliance in compelling us to support Amonix during a summer 2010 visit to Las Vegas (hat tip:
Gateway Pundit
.)
The company says these job cuts are "temporary" and they'll soon be hiring again, to meet demand for their new solar power system. The Las Vegas Sun report doesn't make it sound like temporary belt-tightening:
The company scaled down at all levels of employment at the plant — which was hiring as recently as three months ago — from entry level assemblers, process engineers, production supervisors and quality-control techs, according to one employee who was laid off.
[…] Theodore Lewis, another employee, was working at the plant for six months before he and dozens of other employees were called into a mandatory meeting Tuesday.
"There was no excuse," said Lewis, 34, who was never told his job was temporary. "They just said our job was done."
Lewis said employees were confused and disappointed when they heard the news and were directed by human resources to look for other local jobs in retail.
Amazingly, Obama's re-election strategy involves boasting of his job-creation prowess, and hoping desperately that voters don't ask how long those wonderful stimulus jobs lasted, how many jobs were lost during the Obama presidency, how much the workforce contracted, and what the private sector might accomplish when liberated from ideologically-driven central planners.
Posted by

cwarrenrobertson
at 9:01 PM
No comments:


From Human Events:
FOX News segment with Sarah Palin abruptly cut off
01/29/2012
On FOX News on Saturday, in an interview with Jeanine Pirro, former Alaska Gov. Sarah Palin seemed to be abruptly cut off as she talked about how voters did not want to obey what the Republican establishment often tries to force on them. Pirro abruptly cut Palin off and said she had to go to a "hard break" but then promoted another segment. After the commercial break, Palin was no longer on the air.

Palin's spent a lot of time in the interview criticizing the Republican establishment and pundits (she even referenced FOX News) who wanted to the end the primary process after Tuesday's Florida primary, which former Massachusetts Gov. Mitt Romney is favored to win. Palin said her answer to them would simply be, "no."

"That's what I say when I hear pundits on this network and other networks -- gleefully proclaiming that it's all over by Florida -- despite the fact that 47 states, until today have not been able to chime into the process yet," Palin said. "We see these pundits and politicos and elites in faraway Washington, D.C... telling the electorate that hey, by Florida, it's going to be all wrapped up and we'll have our nominee, and I'm saying, no, don't let that happen because they do need to toughen up, they need to debate these ideas so we elect -- through our nominating process -- the best candidate to come up against Barack Obama and his failed policies."

Palin reiterated that her answer to "these folks who want to shut it down" after Florida was, "No."

Palin said she wanted to hear more from Rick Santorum and his fierce criticisms of ObamaCare and, in a reference to Romney, why Republicans should support the "architect of ObamaCare."

She said she wanted to hear more from Ron Paul about fiscal issues.

She said she wanted to hear more from Gingrich about the Reagan revolution of which Gingrich was a part, and how it "shook up the establishment back then" and how they can do it again.

Palin also said she wanted to hear more from Romney about how he is not ashamed of his personal, financial wealth, especially if he "worked hard for that money in an ethical fashion."

But Palin saved her most favorable words for Gingrich, who she said came under assault by an establishment that feared an "agent of change."

"When both party machines are trying to crucify him... you have to rage against the machine to defend our republic," Palin said. "We need someone engaged in sudden and relentless reform."

Added Palin: "Rage against the machine, vote for Newt. Annoy a liberal, vote Newt."

Palin, when speaking about Gingrich's proposal to have a colony on the moon by the end of the decade and before the Russians and Chinese, also said Gingrich represents an America that had "a notion that America would be first, that we would win, for our psyche, for science."

"That is what Newt is explaining to the public," Palin said.

Palin said there was "nothing wrong with grandiose ideas" because every politician on the national stage has them to improve the country.

"I don't think there is anything wrong with dreaming big in our nation because that is how America became an exceptional nation," Palin said, before adding that Americans have always thought big like winners.

"In a debate, Newt Gingrich would clobber Barack Obama," Palin said, emphasizing that in a campaign, debates are where ideas and solutions are articulated to the electorate.
Posted by

cwarrenrobertson
at 9:00 PM
No comments:


From Glenn Beck:
Catholic Church circulates anti-Obama letter
What do you think the MSM's reaction would be if the Bush administration were to create a law that all Muslims were forced to eat bacon, egg & cheese sandwiches daily? Obviously not very well – so why hasn't anyone made a peep about the Obama administrations blatant attack on Christianity, specifically Catholics, where institutions would be mandated to cover things that blatantly violated their beliefs? Glenn read the letter and talked to Catholic League's Bill Donahue about it on radio today.
What did the letter say?
Dear Brothers and Sisters in Christ:
I write to you concerning an alarming and serious matter that negatively impacts the Church in the United States directly, and that strikes at the fundamental right to religious liberty for all citizens of any faith. The federal government, which claims to be "of, by, and for the people," has just been dealt a heavy blow to almost a quarter of those people — the Catholic population — and to the millions more who are served by the Catholic faithful.
The U.S. Department of Health and Human Services announced last week that almost all employers,including Catholic employers, will be forced to offer their employees' health coverage that includes sterilization, abortion-inducing drugs, and contraception. Almost all health insurers will be forced to include those "services" in the health policies they write. And almost all individuals will be forced to buy that coverage as a part of their policies.
In so ruling, the
Obama Administration
has cast aside the First Amendment to the Constitution of the United States, denying to Catholics our Nation's first and most fundamental freedom, that of religious liberty. And as a result, unless the rule is overturned, we Catholics will be compelled to either violate our consciences, or to drop health coverage for our employees (and suffer the penalties for doing so). The Obama Administration's sole concession was to give our institutions one year to comply.
We cannot—we will not—comply with this unjust law. People of faith cannot be made second class citizens. We are already joined by our brothers and sisters of all faiths and many others of good will in this important effort to regain our religious freedom. Our parents and grandparents did not come to these shores to help build America's cities and towns, its infrastructure and institutions, its enterprise and culture,
only to have their posterity stripped of their God given rights. In generations past, the Church has always been able to count on the faithful to stand up and protect her sacred rights and duties. I hope and trust she can count on this generation of Catholics to do the same. Our children and grandchildren deserve nothing less.
And therefore, I would ask of you two things. First, as a community of faith we must commit ourselves to prayer and fasting that wisdom and justice may prevail, and religious liberty may be restored. Without God, we can do nothing; with God, nothing is impossible. Second, I would also recommend visitingwww.usccb.org/conscience,to learn more about this severe assault on religious liberty, and how to contact Congress in support of legislation that would reverse the Obama Administration's decision.
Sincerely yours in Christ,
+Alexander K. Sample
Most Reverend Alexander K. Sample
Bishop of Marquette
"I want to make one thing very clear here. This is not about contraception. Why do you think he has abortion‑inducing drugs involved in this thing?" Donahue said.
"The goal is to force Catholic hospitals and all hospitals to provide for abortion coverage. They're just starting with what they think is the least offensive. We know exactly where they're going."
Donahue spoke of other incursions of government into the church.
"Just a few weeks ago, while we did win in a unanimous decision, unprecedented, 9 to nothing, the Supreme Court affirmed the idea of ministerial exception, meaning that all churches have the right to decide who works there and how to handle their employees, hiring and firing. The Obama administration did not want that. The Obama administration stood with the New York Times. They want the Federal Government making these decisions. Now, whether or not we have women priests, that's for Catholics to decide. Obama wants the Federal Government to decide. That's why he argued this case in the Supreme Court," Donahue said.
Glenn wanted to know what non-Catholics could do to show their support. Donahue encouraged people to visit
CatholicAdvocate.com
as well as to press the Congressmen for "respect for rights of conscious act."
Posted by

cwarrenrobertson
at 8:54 PM
No comments:



Another $118 Million Lost on Failed Energy Plans
Home » Economy » Another $118 Million Lost on Failed Energy Plans
Jan 26, 2012 2 Comments ›› Staff Writer
What a difference a couple of days makes! Barack Hussein Obama, speaking in the State of the Union address, told us that America is leading the way in electric car battery technology. Oh, happy day! We're Number One! Two days later, the clean energy company which is manufacturing these batteries after being propped up by your tax dollars, has filed for bankruptcy. Another day, another dollar. Except in this case, it's $118 million of your dollars that Obama has thrown down another rat hole.

The company in this case is Ener1, not to be confused with Solyndra. The Obama administration was already embarrassed to have lost $535 million in taxpayer funds when Solyndra went belly-up last year. Now another feel-good, pie-in-the-sky, saving-the-planet-from-global-warming-at-taxpayer-expense scheme has failed. Joe Biden was singing the praises of Ener1 a year ago, but has fallen strangely silent today.

Ener1 is trying to develop lithium-ion batteries that don't explode or catch fire when they're in a vehicle that's parked in the owner's garage. This of course is part of a broader strategy of the environmentalist movement to cripple the U.S. economy even further, by pretending that gasoline engine cars are somehow causing the earth to warm up. In spite of all of the leaked emails from scientists that admit that they're faking the data on warming temperatures, and NASA admitting that its temperature data is compromised, faked or otherwise suspect, the left continues to advance its environmentalist extremist agenda. At your expense, no less.

Digging a little deeper into the picture, Obama was also spending your taxpayer dollars at Ener1 in order to ship jobs overseas. Don't believe us?

Ener1 has spent $320,000 in lobbying fees to Barnes & Thornburg LLP since Obama has been in office. Here are three of the key lobbyists for Barnes & Thornburg that worked specifically on behalf of Ener1:

Edward Ayoob – Former Legislative Counsel for Harry Reid
Richard Boykin – Former Chief of Staff to Rep. Danny K. Davis (D) Ill.
Robert Grand – Mitt Romney Campaign Donor
Those fees, spread out from 2009 through 2011, were spent on obtaining Energy Department grants to fund the green battery development. However, another portion of the lobbying fees was spent so that Ener1 could acquire the necessary permits from the Department of Transportation to ship the battery components in from overseas – from a manufacturing plant in Chungbuk, South Korea.

So in a nutshell, Ener1's parent company EnerDel received grants and loan guarantees to build a domestic plant for the batteries here in the U.S., but all of the components for the battery packs are built in South Korea.

EnerDel claims in its bankruptcy filings that its investment in Think Global – a Norwegian electric car company – is part of the reason for its failure. Think Global went under last June in its fourth bankruptcy filing in 20 years. Your tax dollars at work!

EnerDel also claims that volatility in the Asian markets is to blame for its bankruptcy filing. Would that be the same Asian market where the company chose to have its battery components built? Let's check the map. Yep! It is in fact the same Asia.

This is all just further evidence that Barack Obama's stimulus package was a failure. Rather than create jobs here in the U.S., the money was spent shipping jobs overseas. It was also spent on "clean energy" projects that many have described as magic unicorn deals – pure fantasy that doesn't work. But that won't stop Barack Obama from spending other people's money. Look for Republicans in the House of Representatives to add Ener1 to its list in the coming days or weeks as the investigation of Solyndra continues.


Posted by

cwarrenrobertson
at 8:39 PM
No comments:


Friday, January 27, 2012
Posted by

cwarrenrobertson
at 4:18 PM
No comments:


by Amanda Carey
Capital Research Center
January 23, 2012
Despite the environmental movement's enormous effort and great expectations Congress has enacted no comprehensive climate change legislation. There's no carbon tax, no cap-and-trade. In 2009, a cap-and-trade bill did pass the House but it was pulled from the Senate calendar. True, the federal government continues to tighten air quality standards, fuel efficiency standards for cars and trucks, and emission controls for plants and factories. But environmentalism's Holy Grail remains elusive: there's been no bill signing ceremony that recognizes global warming as a man-made planetary threat requiring nationwide controls over carbon emissions. What happened?
by Bacchus Barua, Mark Rovere, Brett J. Skinner
Fraser Institute
January 23, 2012
Waiting times for elective medical treatment have in creased since last year. Specialist physicians surveyed across 12 special ties and 10 Canadian provinces re port a total waiting time of 19.0 weeks between referral from a general practitioner and receipt of elective treatment. At 104 percent longer than it was in 1993, this is the longest total wait time recorded since the Fraser Institute began measuring wait times in Canada.
Posted by

cwarrenrobertson
at 3:39 PM
No comments:


From The Goldwater Institute;
by Nick Dranias
Goldwater Institute
January 25, 2012
Policy Report
Civil servants should serve the public. Honest politicians must end policies and agreements that put their interests and those of government employees ahead of those of citizens at large. This report shows how.
From CFIF: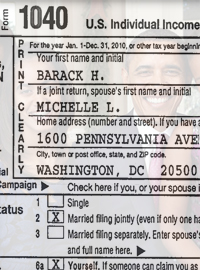 Businesses and 'millionaires and billionaires' aren't the only ones suffering under excessive corporate tax rate.
In his State of the Union speech, Barack Obama lectured those whom he hadn't already bored to stupor with his usual onslaught of platitudes – you probably had no idea that "teachers matter" until he said so – that anyone earning over $1 million should pay at least 30% to government. Oh, and another thing – no deductions allowed:
"If you make more than one million dollars a year, you should not pay less than thirty percent in taxes… In fact, if you're earning a million dollars a year, you shouldn't get special tax subsidies or deductions."
But guess what, those of you among the servile class. Obama unsurprisingly doesn't practice the same class warfare that he preaches.
In the most recent year available, Obama's income totaled $1,795,614. So unlike Americans earning as little as $200,000 whom he habitually defines as "millionaires and billionaires," he actually is one. But what did Obama himself pay in taxes? Approximately $454,000, which amounts to about 25% of his income.
As for deductions that he says millionaires shouldn't get, Obama certainly took his share. In fact, he claimed almost $400,000 worth, which is almost as much as his total tax payment.
But hey, at least Obama carries his "fair share" better than that miserly Mitt Romney, right?
Not necessarily.
Amid the curious media feeding frenzy over Romney's 15% effective tax rate - "curious" because the same media refrained from obsessing over John Kerry's 13.1% rate in 2004 - the fact that his investment income is double taxed was ignored. Namely, before dividend or capital gain income is taxed at the current 15% rate, those dollars are first taxed under our current tax regime at the prevailing 35% corporate rate.
Accordingly, since the federal government first taxes such income at the 35% corporate rate, and then again upon receipt at 15%, the top marginal rate actually reaches 44.75%.
Making matters worse, America's 35% corporate tax rate remains the second-highest in the world among developed countries. Not only does that punish investment in the double-taxation manner described above, it significantly disadvantages U.S.-based companies vis-à-vis foreign competitors. When we last reformed our tax system 25 years ago, our corporate rate was actually among the lowest in the industrialized world. Since that date, however, we have fallen to next-to-worst.
Moreover, businesses and "millionaires and billionaires" aren't the only ones suffering under excessive corporate tax rate.
According to Ernst & Young, America's high corporate rate reduced wages and benefits for U.S. employees by some $100-$200 billion over the past decade alone. And according to the Heritage Foundation and Milken Institute, reducing that rate even to the Organization of Economic Cooperation and Development (OECD) average of 25% would create 500,000 to 2.2 million jobs and add $2,484 in additional income for the average family of four each year.
Fortunately, there is some good news to report from Obama's State of the Union. Amid his assault, he actually suggested a willingness to pursue corporate tax reform:
"We should start with our tax code. Right now, companies get tax breaks for moving jobs and profits overseas. Meanwhile, companies that choose to stay in America get hit with one of the highest tax rates in the world. It makes no sense, and everyone knows it. So let's change it."
Americans agree. According to Gallup, Americans favor corporate tax reform that would help stem the outflow of businesses and jobs by an 82% to 15% margin.
The question now is whether we act quickly while a rare political consensus exists.
More divisive rhetoric and class warfare from Obama won't accomplish anything. He has exposed himself as a hypocrite by not conducting his own affairs in the manner that he demands from the rest of America, but he can make amends by converting his more positive words to action.
It's up to us to ensure that Congress and the White House make this happen, to achieve a rare convergence between their own political interests and the nation's actual welfare.
Posted by

cwarrenrobertson
at 2:26 PM
No comments: